'Gypsy'
Top Smooth Collie Bitch 2008
Crufts CC - 2010
CRUFTS 2010- What a Year.....Click Here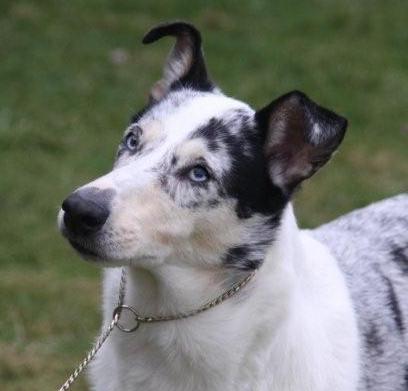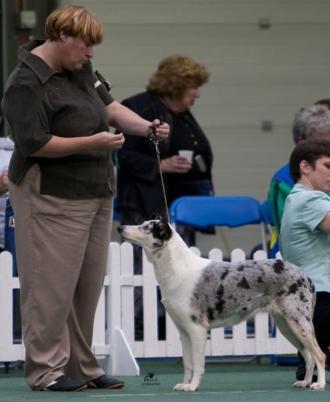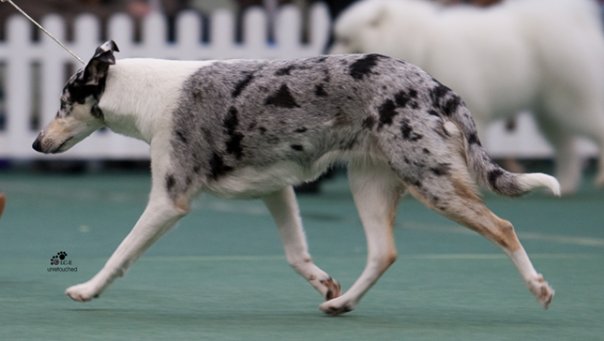 Born 07/10/03
8 CC's, 4 BOB, 5 RCC's
Blue Merle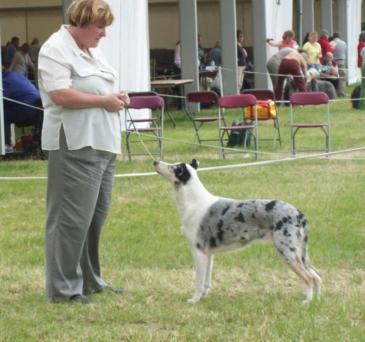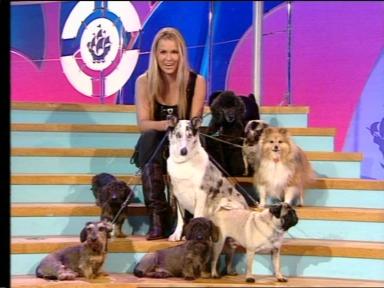 Gypsys Appearance on Blue Peter along with friends including, Zena at front Buffy to the side of her and Monkey Boy behind
2011 Gypsy only now comes out now for the odd Veteran Class and to appear in the Champions Parade and some of the breed shows she did come out for the Smooth Collie of the year after qualifying at Crufts and ended up Runner up to the Reserve Bitch. WELL DONE GYPSY x
Lancs & Cheshire Ch Show -April 2010 - Res Bitch CC - Kevin Young
Blue merle bitch that cannot be over looked, quality head and expression very sweet and feminine in appearance but is of good size and substance, moved with drive and purpose, pleased to award her Res CC.
WELKS Ch Show -April 2010 - Res Bitch CC - Brian Hawkins
I had the pleasure of judging this beautiful blue merle before, and was delighted to see her here today. Super conformation, lovely head qualities, good reach of neck, covers the ground with ease on the move. she well deserves her title and it was only the charisma of the cc winner that beat her today Res CC
CRUFTS Ch Show -March 2010 - Bitch CC - Lisa Burtenshaw
One I have judged in the past. Most beautifully coloured blue merle, now fully mature and can take on the best, ideal for size and substance, very good head and ears, lovely blue eyes, so soundly constructed, excellent legs and feet, super sound free movement, well deserved Bitch CC
Gypsy then came out of the showring for maternal duties reappearing at
SWKA in October 2009 winning Best Bitch & Best of Breed - Rodney Oldham and Shortlisted in the Pastoral Group - Kari Wilberg
medium size BM with two blue eyes, very well balanced, feminine head with neatest of ears, good plains and expression, decent arched neck into well laid shoulders, straight front and tidy feet, depth to brisket with sufficient spring to ribs, good topline with slight rise over loin, definition to quarters, moves out with ease and covers ground well, BB & BOB.
British Collie Ch Show - February 2009 - Bitch CC & RBOB - Michael Gaunt
CC This bitch is such an attractive correct colour. She screams femininity. Her shawl collar shows off her beautiful reach of neck. Flows around the ring with a good tireless strong true moving gate.
January 2009 - Gypsy gained her Show Certificate of Merit on 1/1/09
*****
Manchester 2008 - Bitch CC - Zena Thorn Andrews
The winner scored on soundness and freedom of movement. A bit short in muzzle perhaps, a flat, smooth backskull. OK in neck, good front and shoulders, sound legs and feet. Immaculate coat and muscular condition. Super behind, just within the standard for size, i reckoned.
Birmingham National 2008 - Reserve Bitch CC - Lisa Burtenshaw
London Collie 2008 - Bitch CC & RBOB, BOS & BOSIS - Mike Vincent
CC RBOB BOS Outstanding quality B/M, superb colour, markings and coat texture. Excellent conformation creating the most beautiful classic silhouette. Stunningly feminine throughout and shown in good hard condition. Lovely head with very expressive eyes and ears. Movement was free and totally effortless. Delighted to award her the well deserved 3rd CC.
Three Counties 2008 - BOB & Shortlisted in Group - Brian Hawkins
Feminine blue merle, excellent colour, very nice head properties, well rounded muzzle, correct well placed stop, good ear carriage and pleasing eye and expression. Very well made and good conformation. Moved, covering the ground very well. Well balanced throughout, excellent presentation completing the picture. She has a charisma about her which won her BOB today and later I was pleased to see her make the last 10 in the group. I understand she gained her title the week before this show and well deserved
South Wales Ch Show 2008 - BOB - Marion Spavin
lovely clean feminine head, nice eye, uses her ears, excellent front & feet, lovely reach of neck & clean shoulders, good topline & well bent stifles, good coat texture, very true enthusiastic happy mover. BOB.
Leeds Ch Show 2008 - CC & BOB & Shortlisted in Group- Jack Wigglesworth
was certainly the star of the day, beautifully coloured merle of quite stunning appeal, so feminine & teeming with quality & class, lovely head type, super expression, correctly placed ears used so well, her overall outline, she was just what I was looking for, her movement was a joy to see, carried her tail correctly all the time. CC & BOB
Welsh Kennel Club 2008 - CC & BOB & Shortlisted in Group - Peter Scarth
Birmingham City 2008 - CC & BOB - Sara Robertson
of correct size, but may look small due to height of others, lovely clear bl/m with super flowing lines, good forechest & body condition, just would like her more animated on the move. CC & BOB
Newcastle & Staffs Open Show 2008 - Marianne Grindley 1st AVNSC Pastoral Open, Pastoral Group 1 and Reseve Best in Show
Smooth Collie. Eye catching b/m of beautiful colour. Lovely clean head, well placed eye, lovely expression. Good reach of neck, correct length of back. Well muscled. Gives all her attention to handler. Sound and free flowing movement. Could do a day's work with ease. Pastoral G1 and RBIS.
RESERVE BEST IN SHOW Hutching's Foxearth Flourescence At Molloney (Smooth Collie). Took my eye, well proportioned head, sufficient neck, let in well placed shoulders. Good sound body and quarters, gaited effortlessly. Well presented - Judge Gilbert Wood
Smooth Collie Club 2008 - Reserve Bitch CC - Derek Smith
Gorgeous coloured blue, shown and presented in tip top condition, very pretty head with most details correct, lovely neck and front, good ribs, just a touch steep over the croup which cost her the CC. Moved and showed well. Res CC
*****
January 2007 SWECA Open Show - 1st Open, Best AV Pastoral - Christine Collins
Best A/V Pastoral. A most glamourous girl, such a brightly coloured blue with well broken patches enhanced with her huge white shawl. Stood out for her flowing long neck, and classic body. Well placed stop, almond eyes, good length to her head. Well placed ears, nicely tipped. Simply flowed around the ring. Shown in immaculate order. Pity she was not in the Group
January 2007 Chesham Open Show - 1st Open, Best of Breed, - Christine Gillingham, 3rd in Pastoral Group - Maria Foulston
This Blue looked completely balanced in profile with a very feminine head, moved correctly and with drive. BOB & G3
February 2007 - Horley Open Show, 1st AV Pastoral - Sue Hewart Chambers
March 2007 - Romford - Best AVNSC Pastoral & then won the Pastoral Group - Thank You Angela Hodgson
March 2007 - CRUFTS. 1st Limit Bitch, Thank you to judge Ann Arch
Very feminine appearance with good head proportions in this b/merle who has the unusual double wall eyes. Good neck and forehand. Nice feet. Good body with firm topline. Very sound rear. Super easy action
April 2007 - WELKS. 2nd Limit Bitch, - Albert Wight
this very pretty colour blue merle has much charm. To start with she is a beautiful colour, it is well broken up, the blue almost sparkles and she was immaculately presented. I loved her outline, sweeping and clean cut, she moved well side on and she has a very useful arch to her neck. Her head has a flat skull, a little more stop would be better but she lost out to winner on muzzle where just does not have the roundness and finish of the winner. But she is pretty and totally feminine
June 2007, THREE COUNTIES, 1st Open Bitch, Best Bitch and Best of Breed, Judge Geoff Hyde
June 2007, LONDON COLLIE, 1st Limit Bitch, Judge Jeanette McGregor
Beautifully coloured, very feminine blue merle. Excellent shape with good rear angulation and correct shoulder placement. Good shaped head with level skull and foreface - a little full in the eye but still a sweet expression. One of the best movers of the day
November 2007, 1st Limit Bitch, Judge Liz Cartledge
3 years b/m of good type. Feminine head and outlook. Well proportioned with a clean outline and good coat and condition. Arched her neck and made the most of herself. Moved and showed steadily and was well handled
December 2007, LKA 2nd Limit Bitch, Judge Penny Sewell
Very feminine b/m of excellent colour, in good condition, neat ears used well. Would prefer more rounded foreface. Has a nice shape & outline. A little unsettled when moving;
*****
Paignton Ch Show 2006 - Best Bitch - Judge Steve Barrett
Romford Open Show 2006, 1st Open, and Best of Breed - Judge Mrs Randall (Ladnar)
Loved everything about this B/M B in beautiful condition presented to perfection, nice head pattern, nice eye, neat ears used well, stunning conformation which showed in her flowing movement, stood and showed very well, BOB.
West of England Collie Club 2006 - 1st Limit Bitch, Judge Isobel Griffiths
Well marked b/m with nice white collar. Good head and ears, eye rather full. Good shoulder, front and rear angles, level topline. V. alert and showed quite well
Bournemouth 2006 - Reserve Bitch CC - Derek Smith
*****
Romford Open 2005 - Mrs Lavar, 1st Junior AVNSC Pastoral, Best AVNSC Pastoral and 3rd in Pastoral Group
SKC 2005 - Bitch CC & BOB - Terry Thorn
This beautiful blue merle put in a splendid performance on the day. A very sound and typical bitch to go over with a lovely feminine head, good eyes and expression, perfect ears. Lengthy neck, straight front. Just right in body and topline. Well let down in stifles and hocks. Profident mover. CC and BOB.
London Collie Club 2005 - Mrs Lisa Burtenshaw - 1st Limit Bitch
Smooth Collie Club 2005 - 1st Special Open Blue
*****
Birmingham National 2004 - Derek Smith Best Puppy in Breed
First and second were two gorgeous coloured b/m litter sisters. Very similar in most respects. This one has a very pretty head and blue eyes. Lovely neck and well made body. Long tail and a sound mover. So well presented. Hope she grows on a little mor
London Collie Ch Show 2004 - Mrs Maria Foulston Best Puppy in Breed.
Horley Open 2004 - Best Puppy in Breed and Best of Breed