Pedigree Of CHAMPION WYTHENSHAWE WINDHOVER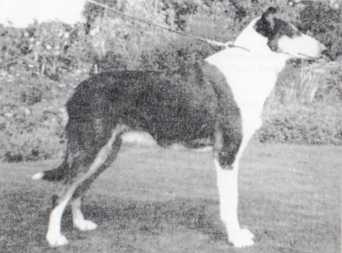 9 CC's & 4 RCC's
1954 MR R J DAVIES WELKS CC
1954 MISS P M GREY BIRMINGHAM NATIONAL CC
1955 MR E C PIERCE CRUFTS CC
1955 MR F WARNER HILL WELKS CC
1955 MISS D M YOUNG BIRMINGHAM CITY CC
1955 MR E WATT BIRMINGHAM NATIONAL RCC
1956 MR A LOUGH CRUFTS CC
1956 MR T D PURVIS WELKS CC
1956 MR H H RIBBINS BIRMINGHAM CITY CC
1957 MRS A E NEWBERY CRUFTS CC
1957 MRS M I RHYS BIRMINGHAM NATIONAL RCC
1957 MR S E ALLSOP BIRMINGHAM CITY RCC
1959 MR S A MARTIN BIRMINGHAM NATIONAL RCC
1 Peggyann was registered as Rough (Major Ian (rgh) x Blissian (unr) As rough x rough is now generally considered to produce only rough, it is possible that she and her dam were not rough, but perhaps open-coated smooths, as amiability smooth.
2. Sheila was descended from Brenda's Girl through Redenvalley Brenda and Redevalley Robina
3. Celebrity's daughter, Am Ch Solo from Shiel, was of great influence in the USA.