Molloney Sue Flay at Pedach
'Twizzle'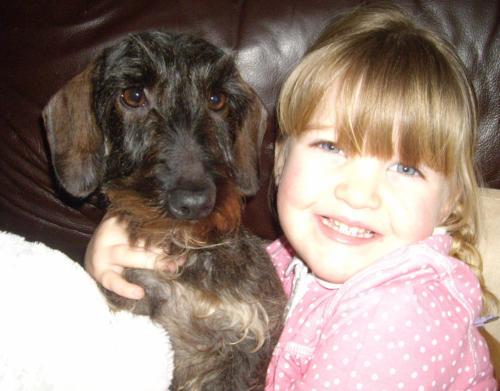 Twizzle with her best friend Sian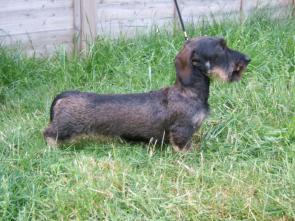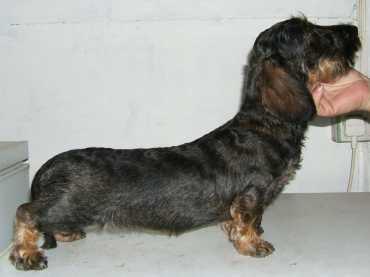 Born 10/05/2006
Dark Brindle
owned by Jas Waite (Pedach)
CC & BOB - Midland Dachshund 2008
Twizzle is owned by our friend Jas Waite she made her debut at The Great Joint Dachshund Club and was placed 2nd in Minor Puppy Bitch (12 Entries) qualifying her for Crufts at her first show. Judge - Chris Moore (Romanchi)
Camberley Open Show - Judge - Penny Young, she was Best Puppy and Shortlisted for Best Puppy in Show.
Horley Champagne Show Feb 2007, Twizzle was BP & BOB and then won 2nd in the Hound Group and 1st in the Puppy Hound Group
Romford Show Feb 2007 Twizzle was BP & RBOB and then won 1st in the Puppy Hound Group
CRUFTS 2007 Twizzle was 3rd in Special Puppy Bitch
Woolwich & Bexley Show March 2007 Twizzle Best AVNSC Puppy
April 2007 - Hound Ass of Scotland - 2nd Junior Bitch
Crufts Qualified for 2008
Crufts 2008 - 2nd Post Graduate Bitch
Twizzle throughout 2008 has won many Best of Breeds and Open Shows, and in June 2008 won Best in Show at the Miniature Dachshund Club Open Show, Zena had won it two out of the three years previously so kept it in the family
Twizzle thrilled us at the end of the year by winning the CC & BOB at Midland Dachshund Club - Well done Twiz!!!
PEDIGREE OF MOLLONEY SUE FLAY AT PEDACH 'Twizzle'

PARENTS
GRANDPARENTS
GREAT GRANDPARENTS
GREAT GREAT GRANDPARENTS
Molloney Tera Fried
CH & JAP CH Drakesleat JP Baro Trier
Int Ch Laughable Rock K JP Denice Baro
Laughable Rock K JP Joi Denice
Drakesleat Ere Tis
Laughable Rock J JP Joi Christi
Jap Ch Laughable Rock K JP Twinkle Joi
Laughable Rock K JP Free Seleriana
Ch Molloney Kiss Me Quick
CH Drakesleat Fred Bare at Rabymere
CH & AM CH Drakesleat Hobs Tickle
Hudgemoor Free Coins at Drakesleat
Molloney Knock It Off
CH Foxearth Fusileer of Drakesleat
Molloney Extra Special
Molloney Unique Recipe
Molloney Lord Knows Why
CH Emem Stormin Norman
CH Guinness of Drakesleat
Emem Misinterpret
CH.IR CH Molloney Justoldme Close
CH Foxearth Fusileer of Drakesleat
Molloney Extra Special
Truffle Torte of Eastcastle
Foxearth Commander
CH Samlane Zingaro for Metcroft
Foxearth Fuffens
Drakesleat Show Off
CH Drakesleat Frankly My Dear
CH Drakesleat Maggot Fatcher